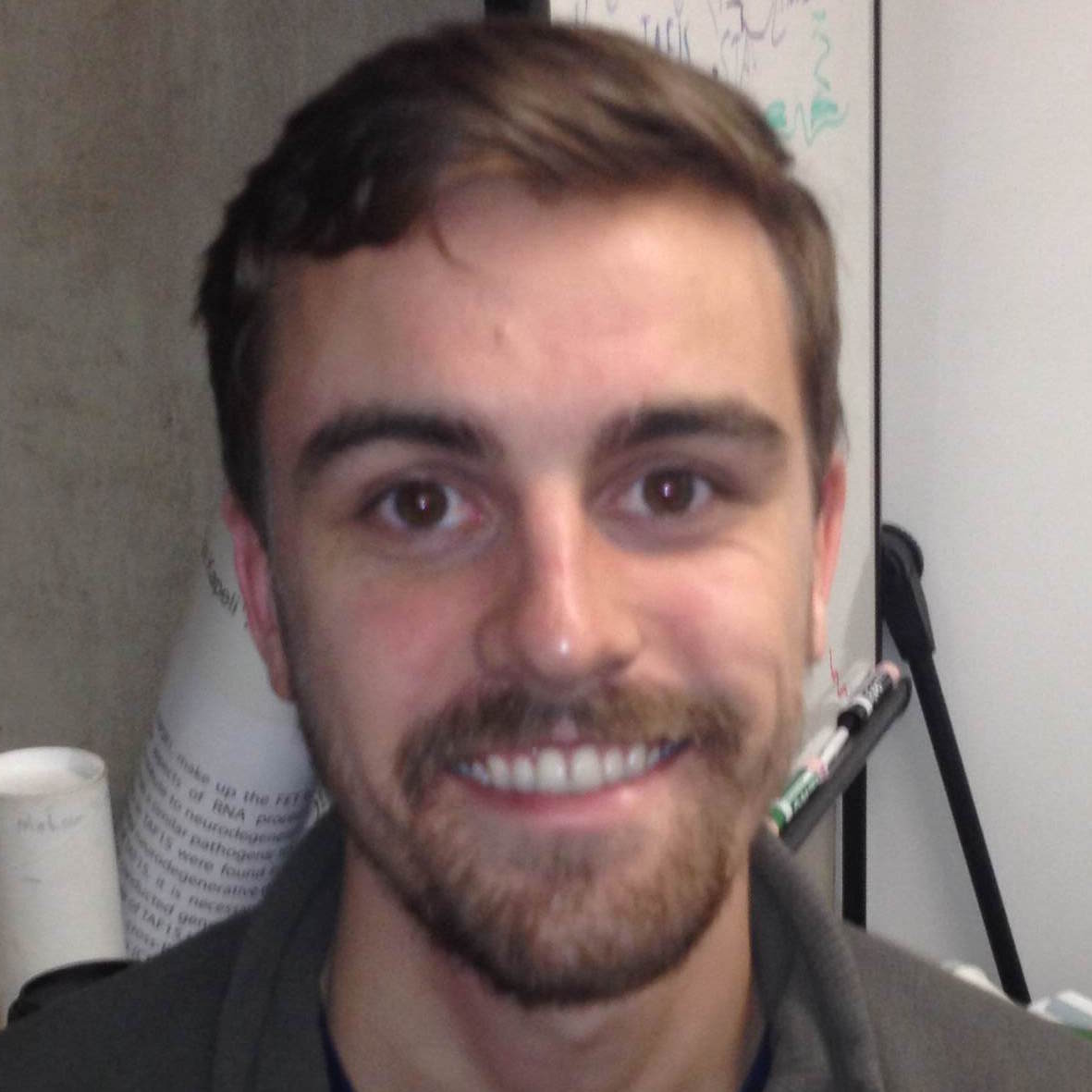 Steven Blue
Staff Research Associate II
sblue at ucsd.edu
Degrees
M.S., Biotechnology, University of California, Irvine, 2012
B.S., Biological Sciences, University of California, Irvine, 2010

Summary
As an undergraduate student at UC Irvine, Steven was a member of Dr. Marcelo Wood's lab studying the inhibition of histone deacetylation on long-term memory formation and associated drug-seeking behavior in mouse models. In the summer of 2011, he interned at Allergan, Inc., assessing the efficacy of candidate compounds as therapies for macular degeneration. During his graduate studies, Steven conducted research in Dr. Craig Walsh's lab studying the molecular, energetic, and metabolic triggers underlying programmed cell death signaling pathways. In 2013, Steven joined Dr. Gene Yeo's group to study RNA-protein interactions as a part of the ENCODE project. Specifically, he has been working to characterize antibodies targeting RNA-binding proteins (RBPs) and using them to reveal novel RBP binding targets via CLIP-seq methods. Outside of lab, Steven enjoys playing soccer/tennis, cooking, and reading a good book.
Publications
Batra R, Nelles DA, Pirie E, Blue SM, Marina RJ, Wang H, Chaim IA, Thomas JD, Zhang N, Nguyen V, Aigner S, Markmiller S, Xia G, Corbett KD, Swanson MS, Yeo GW. Elimination of Toxic Microsatellite Repeat Expansion RNA by RNA-Targeting Cas9. Cell. 2017 Aug 10.

Van Nostrand EL, Nguyen TB, Gelboin-Burkhart C, Wang R, Blue SM, Pratt GA, Louie AL, Yeo GW. Robust, Cost-Effective Profiling of RNA Binding Protein Targets with Single-end Enhanced Crosslinking and Immunoprecipitation (seCLIP). Methods Mol Biol. 2017;1648:177-200. doi: 10.1007/978-1-4939-7204-3_14.

Van Nostrand EL, Gelboin-Burkhart C, Wang R, Pratt GA, Blue SM, Yeo GW. CRISPR/Cas9-mediated integration enables TAG-eCLIP of endogenously tagged RNA binding proteins. Methods. 2017 Apr 15;118-119:50-59. doi: 10.1016/j.ymeth.2016.12.007. Epub 2016 Dec 18.

Van Nostrand EL, Pratt GA, Shishkin AA, Gelboin-Burkhart C, Fang MY, Sundararaman B, Blue SM, Nguyen TB, Surka C, Elkins K, Stanton R, Rigo F, Guttman M, Yeo GW. Robust transcriptome-wide discovery of RNA-binding protein bindingsites with enhanced CLIP (eCLIP). Nat Methods. 2016 Jun;13(6):508-14. doi: 10.1038/nmeth.3810. Epub 2016 Mar 28.

Sundararaman B, Zhan L, Blue SM, Stanton R, Elkins K, Olson S, Wei X, Van, Nostrand EL, Pratt GA, Huelga SC, Smalec BM, Wang X, Hong EL, Davidson JM, Lécuyer E, Graveley BR, Yeo GW. Resources for the Comprehensive Discovery of Functional RNA Elements. Mol Cell. 2016 Mar 17;61(6):903-13. doi: 10.1016/j.molcel.2016.02.012.