index

: Build a de novo splicing annotation index of events custom to your data¶
Note
We highly recommend to use outrigger index on a supercomputer with multiple processors (at least 4) as the indexing process takes a long time – over 24 hours, and by using multiple threads, the program will run much faster.
Overview¶
The purpose of outrigger index is to create a custom splicing database containing alternative exons that appear in your data. This program detects exons de novo and uses an annotation to supplement exon definitions. Then, it builds a graph database of all possible alternative SE and MXE events in your dataset. The events are defined by their junctions and alternative exons, and all possible flanking exons. The same event may have multiple flanking exons, but all those events will ultimately have their percent spliced-in calculated the same way.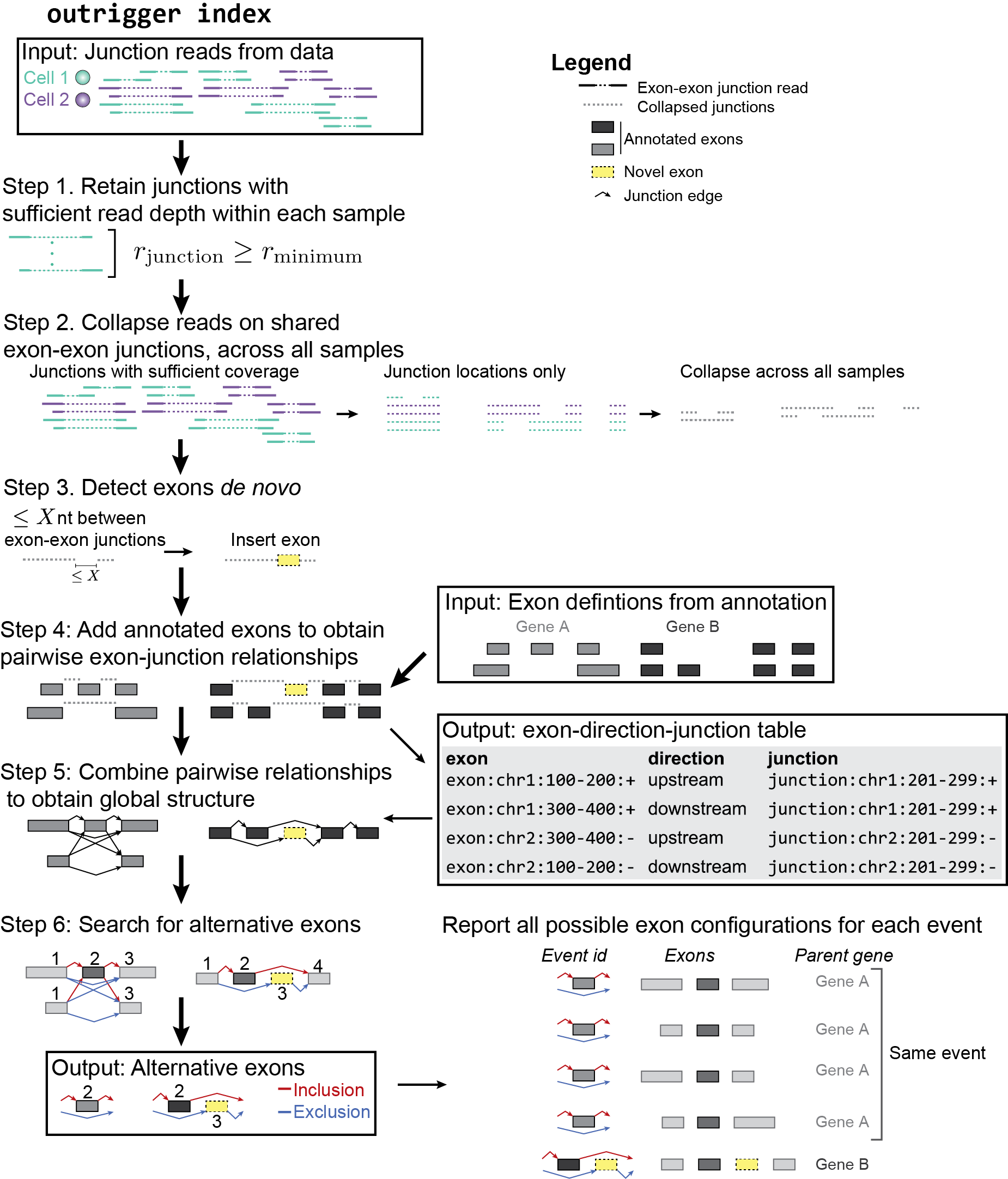 Inputs¶
This section will describe all possible inputs to outrigger index.
Outputs¶
The above commands will create a folder called outrigger_index in the folder you ran the command from, with the following structure
$ tree outrigger_output
outrigger_output
├── index
│   ├── gtf
│   │   ├── gencode.vM10.annotation.snap25.myl6.gtf
│   │   ├── gencode.vM10.annotation.snap25.myl6.gtf.db
│   │   ├── gencode.vM10.annotation.snap25.myl6.gtf.db.bak
│   │   └── novel_exons.gtf
│   ├── junction_exon_direction_triples.csv
│   ├── mxe
│   │   ├── events.csv
│   │   ├── exon1.bed
│   │   ├── exon2.bed
│   │   ├── exon3.bed
│   │   ├── exon4.bed
│   │   └── metadata.csv
│   └── se
│       ├── events.csv
│       ├── exon1.bed
│       ├── exon2.bed
│       ├── exon3.bed
│       └── metadata.csv
└── junctions
    ├── metadata.csv
    └── reads.csv

5 directories, 18 files